We are home of the Original and Best Selling
"How to Get Your Ex Back" Click Here
Dealing With Break-Ups
- How To Get Your Ex Back Fast
My Story

Hi, I'm Chase Oliver and I'm 32 years old.

I was engaged to a woman named Sara, whom I was in love with more than anything...

And one day, completely out of the blue - she broke things off

She said she wasn't ready and that she needed time, and she didn't know how long it would take.

I was completely devastated. I mean, we had even had names picked out for our future children!

My whole world was flipped upside-down.

But then something very strange happened... Read the Rest


---

Romantic Resorts, Inns, B&B's and Lodges in Tennessee
Christopher Place, Newport, Tennessee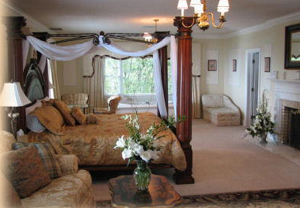 Secluded in the scenic Smoky Mountains near Gatlinburg, Tennessee, you'll find an incomparable bed and breakfast resort. More than any other Smoky Mountains resort, this award-winning Tennessee bed and breakfast inn was created especially for romantic retreats, unforgettable honeymoons, and very special events. Welcome to Christopher Place Bed and Breakfast Resort. Hidden on 200 wooded acres overlooking the Great Smoky Mountain National Park, our bed and breakfast offers an east Tennessee vacation away from your hurried routines. You can relax in a Smoky Mountain setting so tranquil, you'd never know you were so close to Pigeon Forge, Sevierville, and Gatlinburg, Tennessee. More than just a Tennessee bed and breakfast, our Smoky Mountain resort offers more activities and amenities than any other Gatlinburg bed and breakfast. You can swim, play tennis, go hiking, or just sit back and enjoy the beautiful views of the Smoky Mountains from your rocking chair on the veranda of our luxury inn. You might not want to leave our bed and breakfast during your Smoky Mountain vacation. If you do decide to venture from our Tennessee bed and breakfast, you'll want to visit nearby Gatlinburg, Pigeon Forge, and especially the Great Smoky Mountains National Park. Even in the nation's most visited park, the Smokies offer peaceful solitude. The Great Smokies' wildflowers carpet the hills in bright color in the spring all the way through fall. Cool and refreshing in summer or frozen and sparkling in winter, waterfalls abound in the Great Smoky Mountains' vast forests. For the outdoor adventurer, the Smokies offer hiking on over 700 miles of trails from easy to the most challenging, rock climbing, horseback riding, fishing, kayaking, canoeing, bird watching, and sightseeing. At our Smoky Mountain resort, you are surrounded with the natural beauty of the majestic Smoky Mountains and close to all the activities they have to offer.

Visit The Christopher Place Website
Get Map
Just Using One Of The Secrets In The Travel Secrets Guide Could Save You Hundreds, Even Thousands, On Your Next Trip Or Vacation.
Click Here To Learn More!
Berry Springs Lodge, Sevierville, Tennessee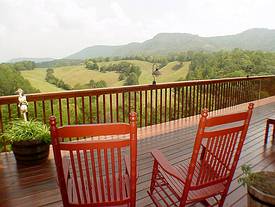 Berry Springs Lodge is a relaxing Smoky Mountain bed and breakfast resort retreat intended for guests that are looking for a quiet romantic getaway in the Great Smoky Mountains. A place for rest, rejuvenation, discovery, and new beginnings. Sit back and take delight in the breath-taking view on a porch above a mist covered valley. Walk down the trail and enjoy the tranquil rippling water as a bass or a catfish swims by to see who is visiting. Before your relaxing adventure is complete, make sure you warm your toes by the camp fire and listen for the soothing sounds of nature. Coming soon Gatlinburg cabin rentals! At Berry Springs Lodge resort you can expect relaxing luxury and first class service. Our secluded scenic Smoky Mountain resort hideaway offers a relaxing tranquil romantic retreat that is only minutes from the Smoky Mountain National Park, hiking, outlet shopping, Gatlinburg, Pigeon Forge, horseback riding and much much more.. Berry Springs Lodge offers much more than your average Gatlinburg bed and breakfast, this Smoky Mountain resort offers many activities and amenities. You can fish in either our bass or catfish ponds, ride bikes on either our mountain trail or our loop trail, play horseshoes, canoe, play table tennis, volleyball, hike or just sit back and enjoy the beautiful views of the Smoky Mountains from your rocking chair on the main deck. This might be bragging but there are many Gatlinburg Bed and Breakfasts, Tennessee Resorts, cabins and Tennessee Hotels in Tennessee but Berry Springs has recently received a top honors award for "Best for Rest and Relaxation" and "Best Mountain View" in the United States by Arrington's Inn Traveler Magazine. If you have stayed at any Tennessee cabin resorts or any resorts or cabins for that matter, Berry Springs Lodge's standards are right up there with the best. The Smokey Mountains offer such natural beauty and serenity you may find you need more time for hiking, fishing, bird watching and sightseeing. Gatlinburg cabins and smoky mountain cabins are coming soon

Visit The Berry Springs Lodge Website
Get Map
Just Travel Agent Reveals Simple And Highly Effective Strategy How To Get Free Airline Tickets and even FREE Vacations!
Click Here To Learn More!
Mountain Harbor B&B, Dandridge, Tennessee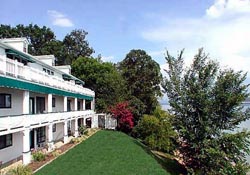 Every suite has a breathtaking view of the beautiful Douglas Lake, caressed by the majesty of the Great Smoky Mountains. All suites include a romantic sunset cruise, a bountiful breakfast buffet and a beautiful candlelight dessert. Welcome to the Mountain Harbor Inn A beautiful Bed & Breakfast Inn Resort often called a warm and wonderful Country Inn. Our BnB Inn's legendary Southern hospitality makes us the most exclusive romantic, and relaxing accommodations option in all of Gatlinburg, Pigeon Forge, and Sevierville, Tennessee. Choose Mountain Harbor Inn as your home base to all that Gatlinburg and Pigeon Forge offer in shopping, dining and entertainment, knowing you will return to the view of beautiful Douglas Lake caressed by the majesty of the Great Smoky Mountains, creating one of the most beautiful views in the country. Mountain Harbor B&B Inn offers the following uniquely luxurious resort suite accommodations near Gatlinburg and Pigeon Forge Tennessee with a beautiful view of Douglas Lake caressed by the majesty of the Great Smoky Mountains.

Visit the Mountain Harbor Inn Website
Get Map
Click here if you would like to list your romantic establishment.