We are home of the Original and Best Selling
"How to Get Your Ex Back" Click Here
Dealing With Break-Ups
- How To Get Your Ex Back Fast
My Story

Hi, I'm Chase Oliver and I'm 32 years old.

I was engaged to a woman named Sara, whom I was in love with more than anything...

And one day, completely out of the blue - she broke things off

She said she wasn't ready and that she needed time, and she didn't know how long it would take.

I was completely devastated. I mean, we had even had names picked out for our future children!

My whole world was flipped upside-down.

But then something very strange happened... Read the Rest


---

Romantic Resorts, Inns, B&B's and Lodges in North Dakota
The Volden Farm, Luverne, North Dakota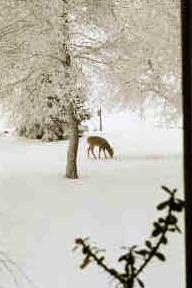 After living in many places we settled where we belong. And we love to meet people, read, garden, sing, talk, raise animals, and plant trees. We have collected things Norwegian and Russian which reflect our heritage and interests and which give character and comfort to our home. One part of our home was built in 1926, and it comprises the parlor, the music room, the library, and the two guest bedrooms. The other part was added in 1978 and is an airy and light space which contains a fireplace in the conversation pit as well as the dining room table overlooking a view stretching miles across the prairie. The Japanese Garden with pond, Koi and goldfish, which graces our main yard, was added in 1999. Furnishings in the two guest bedrooms are family heirloom quilts and linens and interesting antique pieces you will like.We also supply good light and varied reading material. The shared bathroom looks over the pasture hills and orchard. Among the amenities designed for your comfort, you will find: 100% cotton or wool bed covering, feather down pillows, cotton towels, fresh flowers, fruit and bottled water.

Visit The Volden Farm Website
Get Map
Just Using One Of The Secrets In The Travel Secrets Guide Could Save You Hundreds, Even Thousands, On Your Next Trip Or Vacation.
Click Here To Learn More!
Melsted Place B&B, Mountain, North Dakota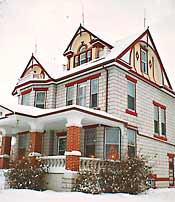 Nestled within the golden wheat fields and little churches, your dreams begin at 221 Melsted Place Bed and Breakfast. The Bed and Breakfast invites you to stroll through the hollyhocks, wonder the garden pathways to this romantic turn of the century mansion with all the amenities of a modern day Bed and Breakfast Inn. As the sun sets in this peaceful North Dakota valley, imagine no interruptions, soft candlelight, piano music and fine dining. Later, relax in the spa, enjoy the fireplace, or indulge in a romantic limousine ride under the stars. Looking for adventure, your visit may include a vintage Jeep tour exploring North Dakota's prairie farmlands, wooded back country trails and nature at its finest! We offer, all inclusive special packages tailored for your pleasure. Each new day, you will awaken to the aroma of gourmet coffee, or tea, home-baked delights, fresh fruit in season and a full candlelight breakfast. Bed & Breakfast Amenities include Victorian all-season spa, optional massage therapy, torchlight croquet, evening bonfires, fresh garden produce, berry picking, bird watching, star gazing, special event receptions, small weddings, and full limousine service. Escape into timeless elegance, experience outstanding service, exceptional cuisine and superb accommodations! Nominated for North Dakota Travel and Tourism Leader Award 2000.

Visit the Melsted Place B&B Website
Get Map
Just Travel Agent Reveals Simple And Highly Effective Strategy How To Get Free Airline Tickets and even FREE Vacations!
Click Here To Learn More!
Huufda B&B, Hankinson, North Dakota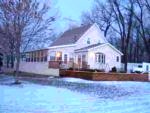 The Huufda Hotel B&B is right off I-29, near Fargo, ND, an easy location for overnight stable horses, trail ride guests and/or B&B. 80,000 acres at 3 nearby locations offer a splendid spectrum of variety for our trail rides such as: forested hills, sand dunes, and wildlife. Daily trail rides, horse training or custom lessons are available using your horse or our horse rentals at an economical fee. Bed and breakfast accommodations offer guests the Ole, Lena and Olga bedrooms in our perpetual updated farm home built in the early 1900's. We usually ride at three locations: the nearby Hankinson Sandhills which has a new 8 mile non-motorized trail, beautiful Sica Hollow State Park of South Dakota with 12 miles of trail, or the 70,200 acre North Dakota Sheyenne National Grasslands which has 32 miles of the North Country Trail. Other possible locations are Fort Ransom. Maplewood Park, MN, or camping excursions.
Click here if you would like to list your romantic establishment.