We are home of the Original and Best Selling
"How to Get Your Ex Back" Click Here
Dealing With Break-Ups
- How To Get Your Ex Back Fast
My Story

Hi, I'm Chase Oliver and I'm 32 years old.

I was engaged to a woman named Sara, whom I was in love with more than anything...

And one day, completely out of the blue - she broke things off

She said she wasn't ready and that she needed time, and she didn't know how long it would take.

I was completely devastated. I mean, we had even had names picked out for our future children!

My whole world was flipped upside-down.

But then something very strange happened... Read the Rest


---

Romantic Resorts, Inns, B&B's and Lodges in Maryland
Five Gables Inn and Spa, St. Michaels, Maryland

Nestled in a scenic village near Chesapeake Bay, our bed and breakfast lodging in St. Michaels Maryland consists of three charming 19th century homes that capture the essence of a luxurious and comfortable getaway for discerning travelers. Five Gables Inn and Spa is a haven for relaxation, featuring fourteen well-appointed rooms, an Aveda concept Spa, an indoor pool, and a sauna and steam room. While at the inn rejuvenate in your whirlpool tub with a good book and glass of wine or relax on your private balcony and watch the day go by. Or, enjoy one of our special vacation packages that include sailing in Chesapeake Bay, romantic dining in St. Michaels, or spa services. This St. Michaels bed and breakfast also features B's Stitches, a fine needlepoint shop, and Flying Fred's, an upscale pet boutique. Nestled in the picturesque Chesapeake Bay village of St Michaels, MD on Maryland's Eastern Shore, Five Gables Inn & Spa blends the historic charm and warmth guests seek with a luxury spa experience. The result is the premier Maryland Spa Resort. 11 rooms and 3 suites, all with spa tubs and fireplaces are complemented by an indoor pool, sauna and steam room, generous amenities, a gracious and truly helpful staff and a superb location. The St Michaels Maryland spa on site is open daily and offers a full range of relaxing treatments, all featuring Aveda products and skillful professionals.

Visit The Five Gables Inn Website

Just Using One Of The Secrets In The Travel Secrets Guide Could Save You Hundreds, Even Thousands, On Your Next Trip Or Vacation.
Click Here To Learn More!
Haley Farm Retreat Center, Oakland, Maryland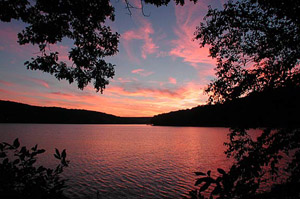 The Bed and Breakfast is beautifully decorated with tapestries, Chinese carpets, antiques, and collections from our world travels. However we have tried to make it comfortable as well as elegant. You can relax in the main sitting room which has a large fireplace and a great selection of books and videos. There is also a wrap-around porch that offers a wonderful view of the rolling hills, cornfields and wildflower meadows. All the suites/room have great views. Most of the B&B is comprised of suites with private Jacuzzis and fireplaces. Some of the suites even have kitchens. And of course we pamper our guests with our gourmet breakfasts. Our trout/bass pond is fully stocked and we even provide fishing tackle if guests would like to try their hand at fishing. There are also bikes and cross-country skis for your enjoyment - but don't feel you have to be energetic - many guests just prefer to lie in the hammock, stroll around the farm, or picnic in the gazebo. Haley Farm Bed & Breakfast, Spa and Retreat Center is a beautiful and charming Bed and Breakfast on a 65 acre farm in Western Maryland, minutes from Deep Creek Lake, Swallow Falls, Wisp Ski and Golf Resort and five state parks. Our Deep Creek Lake lodging has elegant accommodations with heart-shaped Jacuzzis, fireplaces, and Romantic Packages (with flowers, champagne, dinner and massage or reflexology), and are only three hours from the Washington DC/Northern Virginia area and just two hours from Pittsburgh, PA. After a hard day of hiking, golf, horseback riding, or even just sitting around, the SPA and SAUNA are the perfect way to relax and loosen those sore muscles. The spa offers a range of services such as Massage, Stone Massage, Reflexology, Herbal Wraps, and Facials. And you can't go wrong with our Spa Package - for only $110 you get to pamper yourself with a massage, facial and even reflexology.
The Inn at Mitchell House, Chestertown, Maryland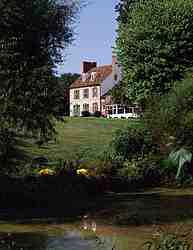 This pristine 18th-century manor house sits as a jewel on 10 acres overlooking Stoneybrook Pond. The six guest rooms, with parlors and numerous fireplaces, provide a casual and friendly atmosphere. Handsome polished wide-board floors add to the colonial decor. The Inn at Mitchell House is a popular setting for romantic weddings, small corporate meetings and other events. We will assist you in all of your organizational needs. Rates for the rooms include a full country breakfast, based upon two guests per room. We offer complimentary beverages but feel free to bring your own.The Inn operates year round, seven days a week. We accept children who will respect the quiet atmosphere. All of our rooms include a TV/VCR and we have a collection of movies that are available free of charge. Centrally located in Kent County, Maryland, the Mitchell House is situated in a quiet setting near the Chesapeake Bay and only a short drive from Chestertown, Rock Hall and other points of interest in Kent County.

Visit The Inn at Mitchell House Website

Click here if you would like to list your romantic establishment.