We are home of the Original and Best Selling
"How to Get Your Ex Back" Click Here
Dealing With Break-Ups
- How To Get Your Ex Back Fast
My Story

Hi, I'm Chase Oliver and I'm 32 years old.

I was engaged to a woman named Sara, whom I was in love with more than anything...

And one day, completely out of the blue - she broke things off

She said she wasn't ready and that she needed time, and she didn't know how long it would take.

I was completely devastated. I mean, we had even had names picked out for our future children!

My whole world was flipped upside-down.

But then something very strange happened... Read the Rest


---

Romantic Resorts, Inns, B&B's and Lodges in Iowa
The Hancock House, Dubuque, Iowa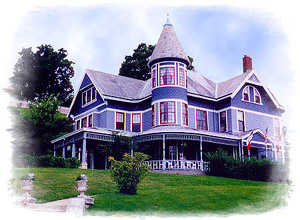 Upon arrival please ring the doorbell, Chuck or Susan Huntley will greet you warmly at the door and welcome you inside. The Inn-keepers themselves are what makes this home so charming and your first few minutes with them will make this evident. Their brief tour of the main guest facilities will include a stroll through the breathtaking dining room where you'll be served a full breakfast each morning at 8:30 to 9:30 (before 8:30 a Continental Breakfast is provided). The friendly atmosphere and warm surroundings make conversation at the table comfortable and charming whether you discuss your stay at the inn or your plans in historic Dubuque. Through the dining room is the guest pantry, here the Huntleys invite you to help yourself to a hot cup of coffee or some cookies any time, also available are complimentary wines and imported beer for your enjoyment. The wrap around porch is a perfect place to spend quiet relaxing moments, enjoying breathtaking sunrises and incredible sunsets. The porch swing is ideal for a romantic conversation or just a place to sip your favorite beverage and listen to the summer crickets enchanting song. Also located on the main floor is the south parlor, where you are welcome to relax and drink in the charm of this Queen Ann styled home. The period furnishings and handsome decor can spur hours of conversation. Perhaps you can even corner Chuck for some historical background to the home and the beautiful antiques within. Be sure to ask about the fireplace in this room, it won a blue ribbon at the 1893 Chicago World's Fair. You are also welcome to lounge in the north parlor and enjoy the beautiful view overlooking historic Dubuque and the Mississippi river. There is even a telescope here so you can make the most of this rare view.

Visit The Hancock House Website

Just Using One Of The Secrets In The Travel Secrets Guide Could Save You Hundreds, Even Thousands, On Your Next Trip Or Vacation.
Click Here To Learn More!
Village West, Spirit Lake, Iowa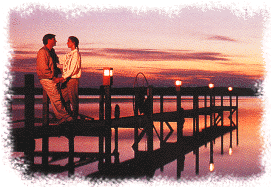 Situated on Highway 86 along the beautiful shores of West Lake Okoboji, Village West Resort and Hotel provides the perfect retreat from the cares and worries of everyday life. You'll find elegant accommodations in the hotel designed for optimal convenience. Families also love our Suites and Townhouses, which are designed to comfortably accommodate large travel parties, and features. Our special Recreation Program offers something for everyone. Our Seasonal Activity Calendar has activities ranging from indoor/outdoor miniature golf, movie theatre, game room, fitness room, library, equipment rentals for all seasons, organized activities, video rentals, indoor/outdoor pool, Village West Marina and more! In addition, Village West Resort is just minutes away from several outstanding attractions including: Arnolds Park Amusement Park - home of the Legend Roller Coaster, 9 Golf Courses including the nearby Okoboji View course. Remember, there is no such thing as an "off-season" at Village West Resort and Hotel.

Visit The Village West Website

Travel Agent Reveals Simple And Highly Effective Strategy How To Get Free Airline Tickets and even FREE Vacations!
Click Here To Learn More!
Riverside Casino Resort, Riverside, Iowa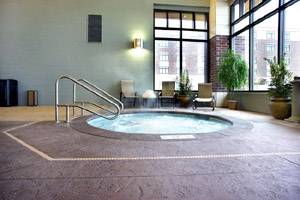 You deserve something special. Riverside Casino & Golf Resort is pleased to bring it to you. Special evenings. Special weekends. A special get-away. Special events. Play in our Vegas-inspired casino. Dine in one of our unique restaurants. Stay in our luxurious hotel. Relax in the spa. Shop at our world-class boutique. Tee off on our world-class golf course. Plan a memorable event in our fully-equipped event center. Take in the beautiful scenery and communities of southeast Iowa. We invite you to "Live it up" at the Midwest's newest and most unique casino resort - Riverside Casino & Golf Resort. One step into your hotel room and you'll know why we say, "Live it up" at Riverside Casino & Golf Resort. Sophisticated interior design complement outstanding personal service and modern amenities to envelope you in total luxury and comfort. A look out your hotel room window reveals a panoramic view of our world-class golf course. Simply stated, there is nothing else like it in the Midwest. Within minutes of your room, you'll discover our spacious indoor and outdoor pools, a Vegas-inspired casino, fine dining venues and more. Whether you're planning a special evening or a weekend getaway, "Live it up" at our hotel. Like all great resorts, Riverside Casino & Golf Resort offers you a chance to relax and unwind from your day-to-day grind. Nothing could be more relaxing than a few hours at our exclusive spa, Zender's at Riverside. Discover how we strive to deliver high-quality, personalized services to each and every guest. All of our spa services are based on Elemental Nature, which takes a more natural path to health and wellness. There are five elements found in nature: Infinity, Air, Fire, Water and Earth. Before your treatment, we ask our guests to complete the Elemental Nature questionnaire, which allows us to create personalized treatments and self-care rituals based on your personal Elemental Nature.

Visit The Riverside Casino Resort Website

Click here if you would like to list your romantic establishment.