We are home of the Original and Best Selling
"How to Get Your Ex Back" Click Here
Dealing With Break-Ups
- How To Get Your Ex Back Fast
My Story

Hi, I'm Chase Oliver and I'm 32 years old.

I was engaged to a woman named Sara, whom I was in love with more than anything...

And one day, completely out of the blue - she broke things off

She said she wasn't ready and that she needed time, and she didn't know how long it would take.

I was completely devastated. I mean, we had even had names picked out for our future children!

My whole world was flipped upside-down.

But then something very strange happened... Read the Rest


---

Romantic Resorts, Inns, B&B's and Lodges in Indiana
Running Buffalo Log Cabin, Brown County, Indiana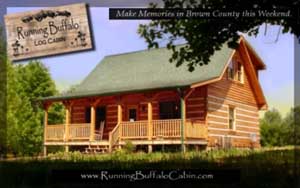 Running Buffalo Log Cabin, a brand new three bedroom vacation log cabin nestled between a beautiful wildflower meadow (where the buffalo used to roam) and the Indiana Hoosier national forest, complete with hiking trail. Located in the heart of southern Brown County Indiana, this rustic yet modern Appalachian-style 2 story log cabin offering guests plenty of privacy and plenty to do... a wonderful place for a family vacation or romantic weekend getaway. The cabin has a covered front porch, equipped with old fashioned rocking chairs and a porch swing. The porch faces directly into the Hoosier Forest (a cozy place to hang out on a rainy day). Inside the cabin you'll find a living room with satellite TV and a thoughtful selection of DVD/VCR movies (mostly classics and children shows). The living room has a vaulted ceiling with exposed wooden beams and a view of the loft. The master bedroom is tastefully romantic with a king sized bed. Upstairs there is second bedroom with a full sized bed and third bedroom with two twin beds. And of course, all bedding blankets, pillows, and towels are provided. Step out the back door on to the multi-leveled deck overlooking the private fishing pond and meadow hillside. The deck is equipped with a picnic table, patio chairs, BBQ grill, and a large 6 person hot tub. It's a wonderful place for relaxing after a full day of exploring Brown County Indiana.

Visit The Running Buffalo Log Cabin Website

Just Using One Of The Secrets In The Travel Secrets Guide Could Save You Hundreds, Even Thousands, On Your Next Trip Or Vacation.
Click Here To Learn More!
Beachwalk Resort, Michigan City, Indiana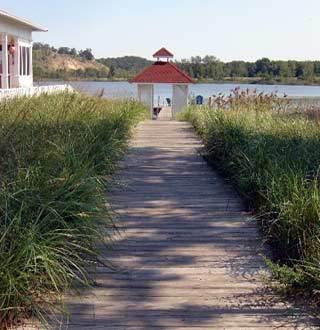 Beachwalk is a resort community where cottages line the streets with white picket fences that invite you to take a stroll and enjoy the spectacular Indiana Dunes. Or perhaps you'd like to play a round of golf, rent a boat, or dine at one of the area's many fine restaurants. At Beachwalk, there is something for everyone. We have a wide variety of vacation rentals available on the shores of Lake Michigan. From large family gatherings to a romantic weekend for two, you're sure to find something that suits your needs. Beachwalk is a resort community not only close to the Indiana Dunes, but minutes away from a wide array of shops, restaurants, recreational activities, grocery stores, and businesses. Other activities in the surrounding areas include: golf courses, casinos, boating, charter fishing, hiking trails, and bicycle trails. Beachwalk is also film friendly, providing backdrops for interior or exterior commercial photographers and filmmakers twelve months a year.

Visit The Beachwalk Resort Website

Travel Agent Reveals Simple And Highly Effective Strategy How To Get Free Airline Tickets and even FREE Vacations!
Click Here To Learn More!
The Manor at Tabor Hill, Nashville, Indiana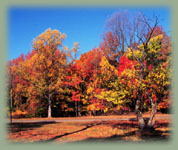 Nashville, Indiana Bed and Breakfast Inn...An elegant modern day Victorian bed and breakfast inn tucked away in the hills of historic Brown County with the heritage of one of the county's elder families.... The Tabor's have been part of the Brown County landscape and color since the mid eighteen hundreds. At least six generations have called Brown County home and live or return here by the pull of that rich past and the history of family. Dirk and Teresa James have created a home and luxurious bed and breakfast hideaway for guests to come and enjoy a quiet interlude away from the concerns of all too busy lives. Brown County and Nashville, Indiana are known as "The Art Colony of the Midwest." Over 100 artists and craftsmen make their home within an easy drive from The Manor at Tabor Hill Bed and Breakfast. Our Nashville area location is convenient to many activities and events...from golfing at Salt Creek Golf Resort, to hiking at Brown County State Park, to antiquing in our many shops and villages, there is something for everyone. After a day in town, return to the inn to unwind and discover why our bed and breakfasts guests keep returning time and time again... As you approach, the charm of the Manor House with its expansive porches, wildflowers, woods, pond and 10 acres to walk and explore will capture your heart and excite your senses. Step inside and the most elegant, warm and inviting rooms and furnishings beg you to leave behind the cares of everyday life and prepare to be pampered. Soft music sets the mood for refreshments, reading, conversing or watching a flickering fire. Delicious and abundant gourmet breakfasts are served in the elegant dining room complete with china, crystal, soft light and music.

Visit The Manor at Tabor Hill Website

Click here if you would like to list your romantic establishment.