We are home of the Original and Best Selling
"How to Get Your Ex Back" Click Here
Dealing With Break-Ups
- How To Get Your Ex Back Fast
My Story

Hi, I'm Chase Oliver and I'm 32 years old.

I was engaged to a woman named Sara, whom I was in love with more than anything...

And one day, completely out of the blue - she broke things off

She said she wasn't ready and that she needed time, and she didn't know how long it would take.

I was completely devastated. I mean, we had even had names picked out for our future children!

My whole world was flipped upside-down.

But then something very strange happened... Read the Rest


---

Romantic Resorts, Inns, B&B's and Lodges in Colorado
Dunton Hot Springs Resort, Dolores, Colorado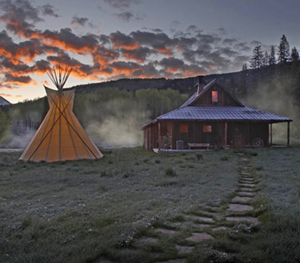 A little piece of Colorado's past has been exquisitely brought back to life as a hideaway for the lucky few. Discover the authentic charm, beauty and elegance of an exquisitely renovated Ghost Town nestling deep in the Rocky Mountains of Colorado. Set in spectacular isolation, Dunton Hot Springs combines rustic luxurious cabins, uncompromising service, unforgettable adventures, in a rare atmosphere of warmth and charm. Enjoy our romantic resort in your own private cabin with wood burning fire. Dunton's exquisitely appointed cabins afford fabulous views of the surrounding mountains makes for one of the best romantic vacations you can imagine. Watch the colors dramatically change as the sun shifts across the towering landscape. All the cabins are less than a five minute walk from the historic saloon & bar, the dining room & dance hall, the hot springs, the massage & yoga rooms, the tumbling waterfall & the exquisite library. Relax in the Hot Springs followed by a healing massage, delicious meal or a quiet moment in the beautiful library. Together, immerse yourselves in the romance and lore of this amazing place.



Just Using One Of The Secrets In The Travel Secrets Guide Could Save You Hundreds, Even Thousands, On Your Next Trip Or Vacation.
Click Here To Learn More!
Pikes Peak Resort, Woodland Park, Colorado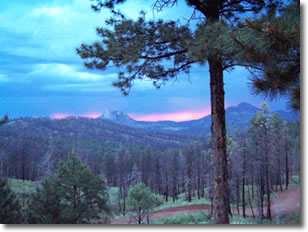 Pikes Peak Resort is located on a 200 acre mountain ranch surrounded by the Pike National Forest featuring luxurious lodging in our Colorado cabins and Woodland Park bed and breakfast inn. The romantic B & B lodge and the remote rocky mountain cabins are a wonderful alternative to typical hotel lodging accommodations . We are located near the mountain town of Woodland Park , CO and only 45 minutes from Colorado Springs and 85 minutes from Denver. Our spacious Colorado lodge is an extravagant facility with massive stone fireplaces, enormous log accents, towering ceilings, and panoramic views of the surrounding mountains. Our guest suites are the perfect Colorado getaway with amenities such as spacious private baths with whirlpool-jetted tubs, fireplaces, private decks, and of course, our gourmet breakfast. The lavishly landscaped area next to the pond and cascading waterfall are an ideal location for a Colorado mountain wedding, corporate retreat, business meeting, or family reunion. The privately located cabins could better be described as Colorado vacation homes with all the amenities of home. The cabins feature a full kitchen, two baths, fireplace, several viewing decks, washer/dryer, private hot tub and much more. The cabins are ideal for families wanting some space, business travelers needing to unwind, or for couples looking for a secluded Colorado honeymoon, anniversary, or romantic mountain getaway. We can help arrange special activity packages from horseback riding to guided fly fishing adventures. Or romantic packages from massages to four course candlelight dinners in your room.

Visit the Pikes Peak Resort Website

Travel Agent Reveals Simple And Highly Effective Strategy How To Get Free Airline Tickets and even FREE Vacations!
Click Here To Learn More!
Sunnyside Knoll Resort, Estes Park, Colorado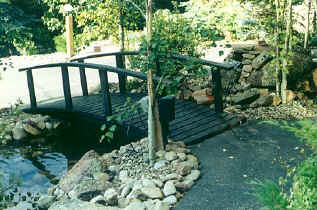 Our contemporary unit have been designed and individually decorated for couples who want a romantic setting with one special extra touch...privacy. To insure your private stay, we do not allow children, groups, nor family reunions. Also, pets are not allowed on the property. Since we cater especially to couples, we reserve our property for the exclusive enjoyment of our guests. We accomplish this with our "No Visitor" policy. Our guests are expected to meet family and friends elsewhere in town. Our 18 unit property is located one mile west of downtown Estes Park and two miles east of Rocky Mountain National Park. Abundant with wildlife, we are located in the scenic Fall River Valley, nestled among pine, aspens, and huge rock formations. A romantic mountain getaway featuring privacy for couples. A blend of mountain charm on the outside, with the expectations of the 21st century on the inside. Private Hot Tubs & Spas for Two!

Visit the Sunnyside Knoll Resort Website

Back to list of states
Click here if you would like to list your romantic establishment.