We are home of the Original and Best Selling
"How to Get Your Ex Back" Click Here
Dealing With Break-Ups
- How To Get Your Ex Back Fast
My Story

Hi, I'm Chase Oliver and I'm 32 years old.

I was engaged to a woman named Sara, whom I was in love with more than anything...

And one day, completely out of the blue - she broke things off

She said she wasn't ready and that she needed time, and she didn't know how long it would take.

I was completely devastated. I mean, we had even had names picked out for our future children!

My whole world was flipped upside-down.

But then something very strange happened... Read the Rest


---

Romantic Resorts, Inns, B&B's and Lodges in Arkansas
River Wind, Ponca, Arkansas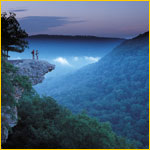 "Welcome to heaven," is the greeting you'll most likely hear when you come through our door. And heaven on earth it is. Because of the beautiful, lush Ozark Mountain wilderness surrounding us, and the pristine Buffalo National River flowing through it. Heaven because of the many wonderful ways we can help you explore it. And, because of the luxurious, restful escape you'll discover at Arkansas' premier Ozark Mountain log cabin resort. If you're looking for the perfect couple's escape, your search is over. Private, romantic log cabins, surrounded by inspiring natural beauty. Exciting adventures to share together. And the longed-for chance to focus on one another, rather than the rest of the world. It all combines for a magical tonic that nourishes the very heart and soul of a couple. While any of our log cabins offer you a special retreat from the world, these four in particular were designed with a luxurious, romantic getaway for two in mind.
Just Using One Of The Secrets In The Travel Secrets Guide Could Save You Hundreds, Even Thousands, On Your Next Trip Or Vacation.
Click Here To Learn More!
Mountain Harbor Resort, Mount Ida, Arkansas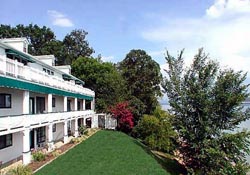 It was over fifty years ago when Hal Barnes set out to create the finest of all spa resorts on the shores of Lake Ouachita. Nestled away in the quiet coves and forested, wilderness beauty of the Ouachita National Forest and the pristine beauty of Arkansas' premier lake, Mountain Harbor Resort and Spa is now serving the fifth generation of families on Lake Ouachita. Mountain Harbor Resort and Spa offers the lake's finest facilities for lodging, dining, honeymoons and spa getaways. The family owned resort boasts Arkansas' most award winning marina; conference facilities for meetings and group retreats, weddings and family events; a lake view restaurant featuring fine Southern family dining and an array of opportunities for rest or recreation. Luxury log cottages with lake views and hot tubs on the decks, cozy guest rooms with patios, and Ouachita's only condominiums will welcome you with the special Harbor touch. Arkansas' first and only lake resort spa, Turtle Cove Spa, offers a broad array of spa treatments including massages, facials, body treatments, holistic therapies, spa manicures and pedicures and more! You can even enjoy your treatments in one of our outdoor spa cabanas overlooking the lake.

Visit the Mountain Harbor Website

Travel Agent Reveals Simple And Highly Effective Strategy How To Get Free Airline Tickets and even FREE Vacations!
Click Here To Learn More!
Lazee Daze Log Cabin Resort, Eureka Springs, Arkansas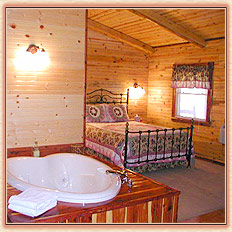 Lazee Daze Log Cabin Resort is located on 63 wooded acres in the beautiful Ozark Mountains of Northwest Arkansas. We are just minutes south of Eureka Springs and all area attractions. Romantic and intimate honeymoon/anniversary cabins, as well as homey family cabins are our specialty. Our unique cabins offer a relaxing, Ozark country experience. Our cozy honeymoon/anniversary cabins are secluded, private and very romantic. They are all beautifully furnished and are unique with red cedar cabinetry and trim work, queen canopy beds and double heart shaped Jacuzzi tubs just for you and your sweetie. The perfect setting for an intimate interlude. Nestled in the heart of nature these are wonderful cabins for two people wanting to relax and escape. Private and secluded in the woods three cabins feature a heart shaped jacuzzi (Homer's Place has a hot tub), queen bed, kitchen, fireplace, beautiful interior red cedar cabinetry and trim work and a native stone fireplace. Sit on the porch swing and listen to all the wonderful sounds of nature.
Click here if you would like to list your romantic establishment.