We are home of the Original and Best Selling
"How to Get Your Ex Back" Click Here
Dealing With Break-Ups
- How To Get Your Ex Back Fast
My Story

Hi, I'm Chase Oliver and I'm 32 years old.

I was engaged to a woman named Sara, whom I was in love with more than anything...

And one day, completely out of the blue - she broke things off

She said she wasn't ready and that she needed time, and she didn't know how long it would take.

I was completely devastated. I mean, we had even had names picked out for our future children!

My whole world was flipped upside-down.

But then something very strange happened... Read the Rest


---

Romantic Resorts, Inns, B&B's and Lodges in Alaska
Pearson's Pond Resort, Juneau, Alaska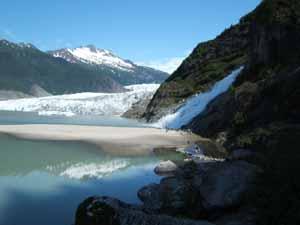 Enjoy the perfect romantic getaway! The serenity of nature that abounds at Pearson's Pond is inspiring and can seal the bond between two lovers. This Juneau Alaska Inn has been listed by MSN as one of the most romantic destinations in the world and receives numerous awards and accolades. It has been featured on national television, noted in major magazines such as Sunset and Atlantic Monthly and is a consistent favorite Juneau Alaska destination for marriages and honeymoons. One of the owners is a marriage commissioner and a certified wedding planner. Enjoy outdoor spa tubs, campfire, dock with rowboat, gardens, pond, rowboat, dock, spacious decks, bicycles, on-call massage therapist and fitness center, BBQ, wildlife and spectacular scenery, including views of nearby mountains and glacier. The experience is exquisite and the guest rooms at Pearson's Pond are legendary. Distinctively designed, open and airy floor plans flow gracefully between the indoors and out. All rooms have romantic Canopy Bed, fireplace, CD player, kitchenette, private entrance, deck, wonderful view, spectacular setting, and superb amenities. Honeymoon suites have a two person private whirlpool tub, living area with loft, skylight for watching the northern lights, and a spectacular view of the water and mountains.

Visit Pearson's Pond Resort Website

Just Using One Of The Secrets In The Travel Secrets Guide Could Save You Hundreds, Even Thousands, On Your Next Trip Or Vacation.
Click Here To Learn More!
Alyeska Resort, Girdwood, Alaska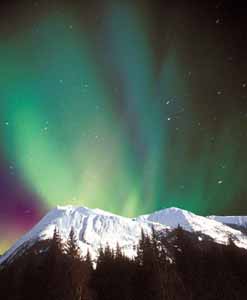 The world as it should be.....Pure. Pure Luxury, Pure Wilderness, Pure Alaska, The Hotel Alyeska. Set in the pristine wilderness, just 40 miles south of Anchorage, Alaska, Alyeska Resort is the destination for your Alaska Vacation. Towering spruce trees, mountains and hanging glaciers surround the hotel. Feature Packages - there is a package designed for everyone who wants to experience all that Alyeska Resort has to offer. Let The Hotel Alyeska be "base camp" for your Alaska vacation. Conveniently located 90 miles from Seward and easy access to the Kenai Peninsula, Alyeska Resort is the perfect choice. While vacationing tours and activities are available and can be booked through guest services such as halibut fishing, salmon fishing, whale watching, glacier cruising, bear watching, glacier hiking, white water rafting, helicopter flight seeing, dogsledding and lots more. Tours are available year-round, so winter or summer, whatever your dream Alaska Trip is, we can help make it come true!

Visit The Alyeska Resort Website

Travel Agent Reveals Simple And Highly Effective Strategy How To Get Free Airline Tickets and even FREE Vacations!
Click Here To Learn More!
Kennicott River Lodge, McCarthy-Kennicott, Alaska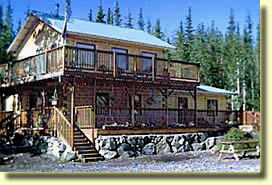 This is a very private and isolated resort right next to a glacier in a small ghost town. The main lodge building provides a commons area for all guests to enjoy. There is a lounge and self-contained kitchen to cook in, also a large outdoor deck for viewing the glacier and mountains. The Kennicott River Lodge is located on the banks of the Kennicott River, near the small community of McCarthy, Alaska. Local recreational activities include: Mountain biking, Hiking, Backpacking, Flight-Seeing, Whitewater Rafting, Mountian Biking, and visiting Historical Kennicott Mine. You have a choice of staying in the main lodge suite, private rooms, private cabins or dormitory style cabins. All are nestled among the trees and rock moraine with views of the glacier, river and mountains.

Visit The Kennicott River Lodge Website

Click here if you would like to list your romantic establishment.