How To Propose

Every guy should propose to their special girl in a different way. It should be special and unique to just the two of you. Let me give you your first hint at a proposal and this is coming from a woman. It doesn't have to be the most fabulous proposal in the world. You don't have to be the guy that pays a million dollars to make his proposal nationwide on the big screen at the superbowl (which someone did this year in 2007). Whatever you decide to do, your girlfriend is going to be so excited that you simply proposed that she won't be able to think of anything else but that shiny rock on her finger. It won't matter how you did it or what you did, all she will be thinking about is just that fact that your proposed and that you love her enough to buy her a ring. In fact, she is going to be in lala land so much for the next week or so that you will hardly be able to have an intelligent conversation with her. Just like a little child in a candy shoppe...
But if you want to make that special step with a special and unique proposal, anything which is quite different will count as being unique and thoughtful. A run of the mill walk in the woods isn't going to lead to the best stories. But try and do it during a time that you both enjoy. For instance, a friend of mine and his girlfriend loved to scuba dive. While in the Mexican Caribbean, he proposed to her underwater by opening a clam shell to reveal the ring. He had a prepared underwater pallet ready which he brought out which had the big question written on it. Now that is something they will always remember. So think about something you both enjoy doing (besides snuggling on the couch or something you do every single day). Involve people in your plan. A coordinated effort makes it all the more special. When I was younger I worked at a very fashionable club. I knew a man and woman were coming in who were about to be engaged. He secretly passed me the ring once they were inside and I presented the ring to his fiance to be in a martini glass filled with her favorite martini. It was a cute idea because we even got the spotlight on the couple and announced their engagement (once we saw a positive response coming from her) over the loudspeaker.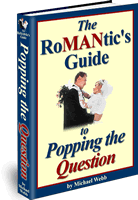 If you are still itching for some great proposal ideas and stories because you just can't think of what to do, I suggest reading Michael Webb's Guide to Popping the Question. This is a great guide. Mr. Webb sorted through a bunch of different proposal stories and ideas, thousands of them, and compiled a list of the very best ideas on his website. Mr. Webb is considered one of the most romantic men on the web so it would be very wise to take some footnotes from this guy!
If you are about to propose I offer you my congratulations. Don't worry about being nervous, she will say yes! If your girlfriend is still with you by the time you propose, it is because she loves you and you don't have to fear rejection. One more small bit of advise, again coming from a woman, is to make the proposal public. Women fantasize about an audience during this special time in their lives. A woman would love it if her man was to propose in front of all of their mutual friends and family. Of course, this doesn't go for every woman, some women are a little more private. But I am telling you that most woman would love to have this happen. It would make her feel so special and loved. Before doing any public proposal, make sure that she feels the same way about you, however! I mean, it wouldn't be wise to attempt this if you have only been seeing each other for a few weeks. Save this proposal for the aged and mature relationship.
Back To Menu