Long Distance Relationship with a Russian Woman

What is it like to have a long distance relationship with a Russian woman whom you hope to form a marriage bond with one day? To be quite frank, a long distance relationship with a future Russian bride is quite like any long distance relationship. Both of you lack the physical stimulus to create and grow love which is needed. In a regular long distance relationship, there needs to be a light at the end of the tunnel for it to work. There needs to be a point in time when you know both of you will be together again. This is true for a long distance relationship with a Russian woman. If the relationship is to progress, each of you must be excited about making a meeting point and time. Your relationship must escalate to the point of excitement and anticipation of meeting. If you both feel as if you will never meet, it will fizzle out quickly.
Now you know the real deal here. You are looking for a bride because you are sick and fed up with dating. And she is looking for an American man to take care of her and get her to the United States. What she is looking for most of all is SECURITY. Her best bet is to find an older established gentleman who has money. She might not even be that kind of gold digging girl, but to leave her country, family and friends, she is going to have to make sure she is going to be well taken care of. The last thing she wants to do is end up with some perv who saved up all his pennies for this special rainy wedding day. Your job is to make her feel secure. You don't have to be a millionaire, but you want to make her feel like she will be treated like a princess. She is not going to leave for less! Unlike a regular long distance relationship, she has never met you before. She is not going to fall in love with you over emails or phone calls and then marry you and move purely on the basis of online love. It is not going to happen like that.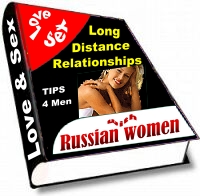 If you are having trouble retaining relationships with Russian women online, you might want to rethink your approach. This isn't like regular online dating. You are both in this for the long haul. There is no 'wait and see' time period of dating allowed for either of you, or at least there is very little of it. A good guide to help you through the dating and courting portion of dealing with Russian women is called Sex Love and Long Distance Relationships with Russian Women. This guide is designed to help you meet more women and retain longer online relationships bettering your potential for a real bride find. If you are serious about wanting to find a Russian bride, you might as well read this manual because all of the research you do will help in the long run.
One thing I wouldn't do when trying to woo an online Russian beauty is kiss her ass. This is not going to get you any respect. You have the higher ground her and you are in the position which commands the respect. You are offering a Russian woman everything to make her dreams come true, they should be lining up to kiss your hand. Make sure you have this in mind so that you can be in the right frame of mind. What you don't want is a woman who begins to walk all over you, take advantage of you and then take all of your money right before you never hear from her again. Everything should be on your terms and your conditions. It is your money! But remember, she is human. So I am not saying to treat her as an object you are merely purchasing. She still needs to be treated with love and kindness.
Back To Menu