The Luckiest Men in the World
by Diva Rebecca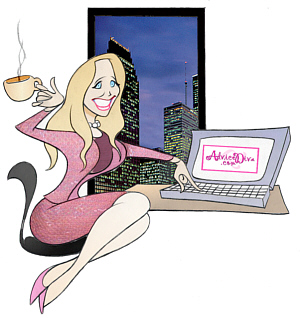 When it comes to dating and being successful in finding a long term relationship, there is one group of ordinary individuals who are at the top of the food chain. Most of them do not even know it! This group is a conglomeration of everyday men and they are holding the royal flush. If you are a guy, you could very well be in this group, it is comprised of millions of men. Is your interest piqued yet? Who are the luckiest men in the world and how could they not know it?
Allow me to intimate the specifics. When it comes to looking for that long term relationship with a special someone, the luckiest group of people are men aged between 35 and 45. A man in this group I speak of has the desire to finally settle down, raise children and begin a new adventure in life. He doesn't have to look like a movie star, have rock hard abs or be a millionaire. Preferably, he has no children from any previous marriage or relationship, but this is not a requirement. On average, men take a little longer than women to become ready for a lifelong commitment. Typical women become ready for marriage between the ages of 25 through 35. Many women get married in their early and mid twenties but many yet keep their distance from serious commitments due career and goal oriented mindsets. To sum up, men are ready to settle down around the 40 year mark while women are ready around the 30 year mark.
So then, why are these men so lucky? Because they can have exactly what they want, a long term relationship, as soon as they want it. AND they can have it with a significantly younger woman! It is not as easy for women These men won't have to look far. They can easily meet a wonderful woman to settle down with, just like that. Amazingly enough, many men who fall into this category have a difficult time finding that special someone. This is usually due to the same set of reasons. Many men meet women in clubs and bars and these are the women who are not ready to settle down. They are still in party mode. Some men are too nervous to talk to women, others don't know where to meet women and many others don't have the time or know of any good venues to meet women. Some men also have low self esteem and consider themselves unattractive or financial unstable. Low self esteem prevents any man from finding love.
Now if a man who fell into the "Lucky Man" category knew exactly how to meet plenty of women, he could be married in two months easy (if he wanted to be!). Be thankful you live in the present day of modern communications. Thanks to the ease of online dating, every man has the power to meet hundreds upon hundreds of marrying women right now. All he has to do is sign up with one of the match making services and start marketing himself. The key would be for him to state his purpose: 'I have had a great life but now is time for a new part of my life to begin. I would like to find the right woman, settle down, get married and have children.' Your inbox would be filled to the brim with interested women everywhere. You would virtually have your pick of the hottest and most eligible bachelorettes in your area! Best of all, most of them will be much younger!
There are millions of women out there right now with one objective: to get married. They have hit that age in their life when they suddenly look around and realize that they have been left behind. All of their friends are married and with family. Their biological clocks start ticking away and the maternal time clock is quite a powerful natural instinct. It is almost like something straight out of the nature channel. The woman must find and seek her mate for childbearing purposes. Well, maybe it is not as cut and dry as this, but the strong instincts remain. Unfortunately for women hitting this period in life, she must play things cool. She can not allow herself to let a courting man know her true objective. She might pretend that she is fine with just dating but surreptitiously she is already planning the wedding. Many women suddenly become desperate at the onset of this stage in life. They feel that they must get married now or suffer the consequences of being an old single spinster for the rest of her days. No man will want to settle down with a woman who is too old, she might think. Time becomes her biggest enemy. When a woman becomes desperate, she might push away many suitable men by becoming too clingy too quickly. In any case, women at this age would be delighted and relieved to find a man who seems to be interested in the same goal. This is not because women are a weaker sex, not at all. Women are strong, proud and fierce. But we are filled with innate instincts of childbearing and maternity. It is natural.
When women in this frame of mind see an ad in a dating website from a man who desires marriage and children, the fear and worry will be taken out of the minds of the women viewing this ad. A woman who seeks marriage and children usually do so secretively, for fear she might lose the man she is dating. If a man was to announce that this is actually what he wants in life, the women would be all too happy to say they are looking for the same thing. That man will be jumped on as if he was the last good man standing on this earth. Instead of being picky and choosy while browing the personals, a woman ready to settle down will focus in on your ad. While she normally might approach the most handsome or most successful, your ad will be pushed to the top and you will suddenly appear to be the perfect man.
Be advised that this knowledge should not be taken lightly or taken advantage of. If you use this as a strategy to only get nookie from women, they will catch on soon. Your name will be passed around as a player and I hope they surround your home with pitchforks and blazing torches. "Hell hath no fury like a woman scorned". For the serious men who are interested in this topic, settling right away is a pitfall to avoid. Don't go ahead and get attached to the first woman you meet online thinking that this will be your only chance. There will be more, trust me. Look for the perfect match. All you must do is let go of your fear and tell them what you really want.
Have any comments? Post them below. Be respectful and courteous. Rude remarks and slander of any kind will be removed.