We are home of the Original and Best Selling
"How to Get Your Ex Back" Click Here
Prevent Premature Ejaculation
My Story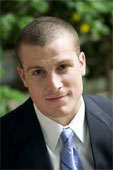 Hi, my name is Simon Taylor and I had suffered from premature ejaculation for years. My story on how I overcame premature ejaculation may interest you.
I am 29 years old and had been in numerous relationships in my 20's. In each and every one I experienced that horrendous moment when I prematurely ejaculated. If you had experienced it as many times as I have, you would know it is embarrassing and disheartening. Of course it is also frustrating to end a pleasurable moment of intimacy so quickly.
---

Romantic Resorts, Inns, B&B's and Lodges in New Mexico
El Monte Sagrado, Taos, New Mexico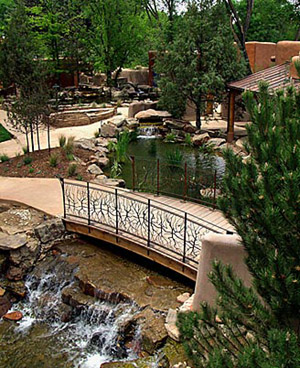 The luxurious El Monte Sagrado Living Resort and Spa™, located in Taos, New Mexico, is a place as unique as the philosophy that guides it. Renowned for its commitments to ecological preservation and sustainability, the lush sanctuary of El Monte Sagrado is where you can nurture your mind, body and soul, naturally. With exquisite elegance, the resort offers 36 suites and casitas with décor that reflects an array of global influences inspired by Native American culture, foreign lands and local artists. While here, also enjoy the serene experience of the The Living Spa™ and the culinary delights of De la Tierra restaurant. El Monte Sagrado - living in harmony with the earth without sacrificing luxury, comfort or style. El Monte Sagrado is a refuge from the fast pace of the world, a safe haven where you are able to find harmony with nature, expand your self-awareness and enjoy the picturesque Sangre de Cristo Mountains. El Monte Sagrado is much more than just a beautiful place to stay. If you look beneath the luxurious exterior, you will find that it is also a path to a better way of living. A place where water becomes more than a symbol of life: it comes to life. Hopefully, people visiting here will be inspired and return home to implement some small change in their life. At El Monte Sagrado Living Resort and Spa™, we invite you to experience luxury at one with the earth.

Visit The El Monte Sagrado Website
Get Map
Just Using One Of The Secrets In The Travel Secrets Guide Could Save You Hundreds, Even Thousands, On Your Next Trip Or Vacation.
Click Here To Learn More!
Sunrise Springs, Santa Fe, New Mexico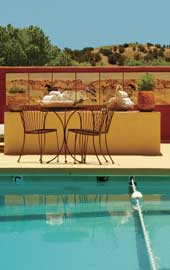 Experience the luxury of simple pleasures Tucked into a Santa Fe valley, is your oasis of natural beauty. With 70 acres of healing gardens and spring-fed ponds, you'll find relaxation and tranquility. Let our superb accommodations, exquisite spa treatments, customized wellness activities, and the imaginatively prepared cuisine at the Blue Heron be part of your next travel experience. Sunrise Springs is a desert oasis offering over 69 lush acres of spring-fed ponds with gardens and wildlife. Meandering paths guide our guests to private hideaways found throughout the property, be it patios next to fountains, benches under trees, or decks by the ponds. Our grounds are homage to the power of nature and art in harmonious balance. Gracefully placed in harmony with the land, our rooms are a combination of exquisite taste and functional ease. Patios and balconies allow for enjoyment of our stunning landscape. Whether your journey to Sunrise Springs is alone, with another, or with a group, to relax or to focus, I would like you to leave with a hunger to know more of the kinds of experience that make up peace, inspiration and pleasure. My ultimate vision is to promote peace in a world that thrives on conflict. How you may ask can an inn in a tiny village in the mountains of New Mexico promote peace? By creating a retreat that offers its guests a unique physical environment, and programs, activities and services that have been carefully designed to foster and teach mindful living. It is my wish to utilize the experience of art and the healing arts in the service of both your own personal vision and of our collective vision for peace.

Visit The Sunrise Springs Website
Get Map
Just Travel Agent Reveals Simple And Highly Effective Strategy How To Get Free Airline Tickets and even FREE Vacations!
Click Here To Learn More!
The Lodge, Cloudcroft, New Mexico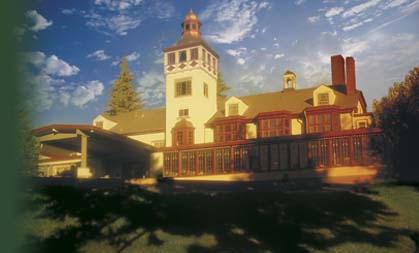 Seasoned by a rich and cultured past, The Lodge Resort beckons you with alluring promises of intrigue. But more than that, this magnificent Cloudcroft New Mexico hotel and resort possesses a quality unlike any other retreat. From the turn-of-the-century fire that destroyed the original structure to its ghostly inhabitants to its storied past, our resort offers a haunting presence that can be felt to your very core. Inside its halls, magic moments live again and again - making this a place that never completely leaves your heart. Towering 9,000 feet above sea level, this prestigious New Mexico resort offers leisure and business travelers an entrancing location. It starts with our casually elegant atmosphere. The thoughtful touches. The attentive, courteous service. Come see why our charmingly unique New Mexico mountain resort is so popular. Enjoy a refreshing dip in our heated outdoor pool. Host unforgettable events in our enchanting indoor and outdoor function space. From romantic getaways and weddings to golf and soothing spa treatments, The Lodge provides a historical setting unlike any other. For quiet weekend retreats or active family vacations, this is southern New Mexico's most treasured find. Take full advantage of the helpful features and services at this timeless New Mexico hotel and resort. From a romantic rendezvous to an adventurous vacation, The Lodge offers a variety of seasonal packages designed to accommodate your every wish. Gift certificates are available for purchase and may be used for Packages, Golf Punch Cards, Spa Treatments, Children's Art Lessons and more...Remember, the perfect gift awaits that special someone in Seasons or The Lodge Mercantile. Gift certificates may be purchased for any amount and are redeemable for all Lodge purchases.

Visit The Lodge Website
Get Map
Click here if you would like to list your romantic establishment.