101 Signs Your Man is Cheating

Do you think your man is cheating? There are so many different ways to tell if your boyfriend or husband is cheating and these little clues apply to both men and women. In many cases, women can be a little over protective with their men and they seem to think he is cheating all of the time even when he is not. The jealous woman will instinctively look for clues, snoop through personal items and even spy on her mate to find some evidence that might point in the direction of infidelity. If this is you, you can stop right there. Most likely, you have a problem with self esteem and jealousy.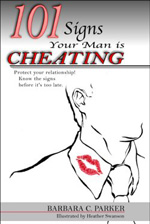 But sometimes, and very often, out intuition is right and our man is cheating. A woman's intuition is a very powerful thing and it is usually right. Barbara C Parker had a wonderful relationship with a perfect husband. But after a while things started to change. She knew her husband was cheating on her, she knew the signs but she had little proof. After a while of living in a terrible emotional state of pain, she recorded her fears, the clues, her thoughts and then she went after them. She learned through painstaking reality that her husband was cheating on her and she wrote the book on 101 Signs Your Man Is Cheating. She elaborates on more than just the changed appearance, new cologne and missing money. She goes many steps further for the sake of other betrayed women out there.
When a man has an affair the clues are everywhere. His appearance will usually suddenly change. He goes out and buys a new wardrobe. For a man that rarely shops, this is a huge clue. He starts to take an interest in his appearance and begins to work out, joins an athletic club, goes on a diet and maybe even change his grooming rituals. For this to happen in a marriage out of nowhere, take note. Something is happening. Working late at the office is a big fat obvious clue, especially if he hates his job and and has never worked late a day in his life. No, he is not working for that promotion, he is working towards that new office hottie. Men go out with the guys all of the time, but if the frequency goes up a notch or he ends up coming home later and later and then not at all, you can start to get worried, it is alright and you are normal.
If these signs and more persist and you bring them up to your lover, what happens next? Here is a big clue: If your man goes ballistic and starts to accuse you of being a crazy bitch, he is having an affair. Especially if you have never brought these worries and concerns up to him before. Why is he reacting like this? Because he is guilty and he feels badly about it. So he is projecting. He is trying to make you feel badly instead. Now, if there is no need for concern and your man is not cheating, he will listen to your concerns, hold your hand, give you kisses and let you know that nothing is going on. There is nothing to be worried about and then he will try his best to either show you that their was nothing to worry about or make sure these signs are not repeated. A man who is not cheating has nothing to worry about, and he will not be upset with you.

There are too many signs of cheating to list here so the Diva suggests that you download 101 Signs Your Man Is Cheating today right onto your computer! (When you click on the link, scroll down to the bottom of this page to find it)